Cross over to the dark side (with a new lipstick shade).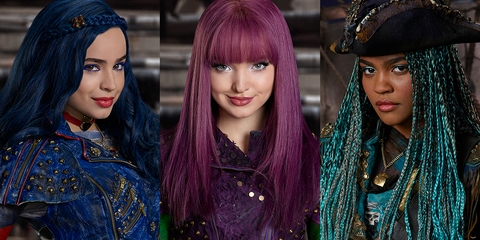 Disney Channel movie sequel Descendants 2 features the offspring of your fave Disney villains making mischief, magic, and other drama happen. The original movie saw four of the bad kids sent to a boarding school alongside many a Disney hero's offspring; there were some hiccups along the way, but they ended up fitting in just fine, finding their ~inner goodness~ and actually saving the day. Descendants 2 picks up where its predecessor ended, but with the characters returning to their roots, literally — their families' homes on the not-fun-at-all-sounding "Isle of the Lost."
Disney star Dove Cameron reprises her role as Mal, the daughter of the infamous Maleficent. She's joined by Sofia Carson and fellow Disney Channel alum China Anne McClain as Evie and Uma, daughters of Snow White's Evil Queen and Ursula respectively. (See Mal, Evie, and Uma above, along with Booboo Stewart as Jay, son of Jafar, Cameron Boyce as Carlos, son of Cruella de Vil, and and Mitchell Hope as Ben, son of Belle and the Beast in their finale formalwear.) But while these girls might be bad (sometimes), their makeup is always hella good — perfect even. And to get a leg up on some *~magical~* beauty trends, Cosmopolitan.com asked Emmy-award winning makeup artist Tana Lynn Moldovanos how to recreate their exact looks — perfect for a Halloween costume or even just a glam night out (no villainy required).
DOVE CAMERON AS MAL
"For all makeup I do, preparation is key and cleansing is a vital step to achieving a clean and smooth canvas," says Moldovanos. "I like using cleansing water, as it's lightweight, refreshing and enables me to get the job done with ease.
"The next step is to moisturize the skin. Hydration is a key element for a flawless makeup result. I start by misting the skin with a vitamin essential oil water and then a dab of eye cream, I follow that with a moisturizer that I smooth over the face and neck lightly pressing into the skin."
BUY NOW Foundation: Ultra Foundation in #2, FACE ATELIER (available at Amazon), $52
BUY NOW Powder: Primed & Poreless Pressed Powder, TOO FACED (available at Sephora), $30
BUY NOW Eyeliner: Precision Eye Liner in "Dark Brown," BEN NYE (available at Amazon), $29.83
BUY NOW Mascara: Indecent Exposure Mascara, SMASHBOX (available at Sephora), $23
BUY NOW Eye shadow: Movement Palette from GAP Beauty (currently unavailable) Try This Instead: Matte Exposure Palette, SMASHBOX (available at Sephora), $49
BUY NOW Lashes: Deluxe Demi 120, ARDELL (available at ULTA), $5.99
BUY NOW Cheeks: Cheek Pop in "Pansy Pop," CLINIQUE (available at Sephora), $23
BUY NOW Lips: Lip Tar in "Lydia," OBSESSIVE COMPULSIVE COSMETICS (available at Amazon), $16
SOFIA CARSON AS EVIE
"All of my makeup is about perfecting the complexion, not masking it. I start with a foundation brush, and gently pat and apply foundation to the entire face, I then lightly buff the foundation into the skin with a damp beauty blender sponge.
"For those areas that need a little more coverage I apply a little concealer, using a small brush. I then set the foundation with a setting powder, Dove Sofia and China all have beautiful skin so it didn't take much at all."
BUY NOW Foundation: Luminious Silk Foundation in #3 and #4, ARMANI (available at Sephora), $64
BUY NOW Powder: Translucent Loose Setting Powder, LAURA MERCIER (available at Sephora), $38
BUY NOW Eyes: Full Exposure Palette, SMASHBOX (available at ULTA), $52
BUY NOW Mascara: Bright Mascara in "Electric Blue," BEN NYE (available at Amazon), $26.90
BUY NOW Eyeliner: Ben Nye Eye Liner in "Chilling" (currently unavailable) Try This Instead: Modern Twist Kajal Eyeliner, MAC (available at ULT), $17
BUY NOW Cheeks: MAC Cream Blush in "Lady Blush" (currently unavailable) Try This Instead: Extra Dimension Blush in "Fairly Precious," MAC (available at Nordstrom), $28
BUY NOW Lips: Lipstick in "Red Rock," MAC (available at Nordstrom), $17
CHINA ANNE MCCLAIN AS UMA
"Once the skin looks flawless I do the eyes and then the brows. I then highlight the special spots on each girl, like top of cheekbones, [and] put shimmer on the tip of their noses and their top lips. I then add color and contour to the apple of cheeks followed with blush along the contour line and temples for sculpted look. I then add lip color and balm for the finished look."
BUY NOW Foundation: All Day Luminous Weightless Foundation in "Medium-Dark," NARS (available at Sephora), $49
BUY NOW Powder: HALO Hydrating Perfect Powder in "Medium," SMASHBOX (available at Birchbox), $49
BUY NOW Mascara: BADgal Lash Mascara in "Black," Benefit Cosmetics (available at Sephora), $19
BUY NOW Eyeliner: Infallible Eye Paint Liner in "Intrepid Teal," L'Oreal Paris (available at ULTA), $9.99
BUY NOW Cheeks: MAC Blush in "Fabulush" (currently unavailable) Try This Instead: Small Powder Blush in "News Flash," MAC (available at Nordstrom), $16
BUY NOW Lips: Chubby Stick Moisturizing Lip Color Balm in "Bountiful Blush," CLINIQUE (available at Nordstrom), $17
Descendants 2 premieres on Friday, July 21 at 8 p.m. on six networks: ABC, Disney Channel, Disney XD, Freeform, Lifetime and Lifetime Movies. (So there's no excuse for you to miss it, tbh.)